You know the location of the properties you underwrite matters, but how do you define location? If you're like most insurers, you use the address, which is an excellent starting point but only tells you part of the risk story. Depending on the type of property you're underwriting and the risks you're assessing, the address might tell you only a small part of that story.
Are you using a point to assess an area's risk?
An address represents a point, the point where the mail gets delivered. An address doesn't represent an area, but in some cases, the area you care about is small enough that the address gives you a way to find most of the information you need. For example, say you're underwriting a suburban home that sits on a small plot of land. Using the address, you can get data on the local area, including crime rates and the fire district. You can also get information about the home, such as the year it was built, as well as information related to the surrounding area, such as:
Is the home in or near a wildfire-prone area?
Is the home near a fault line?
For most purposes, using a point to represent a small area works well enough, as long as you remember two key things.
First, the risks associated with those locations aggregate across your book of business and could leave you with a high concentration of risk in one area. Maps are a quick and easy way to check your concentration of risk.
Second, it's always important to double-check using a map to ensure the address you're getting data for matches the address you want data for. Even the most sophisticated and frequently updated mapping software needs the right inputs to give you accurate results, and no mapping software is perfect. In our Geographic Information Systems (GIS) work, we've searched for an address on 20th Street East and been taken to an address on 20th Avenue East. When we then type in the address we were taken to (on 20th Avenue East), the software shows us another location entirely.
Another reason to use a map to check you're getting data for the correct address: sometimes, a county will assign an address to a point before the U.S. Postal Service adds the address to its database. If you're underwriting a property that's new development or in an area that's been re-addressed, be sure to do a quick map check so you know you're getting the right data.
When underwriting property, using a single point to represent an area can present
challenges. Looking at the area on a map can help you overcome those challenges.
Using a point to assess an area's risk is not always effective
Although a point is sufficient for assessing a small area's risk, it often isn't for assessing a large area's risk. You're more likely to be assessing a large area's risk for bigger, higher-value accounts: think corporate campuses, retirement communities, golf courses, farms, vineyards, and shopping malls. In those cases, an address is a starting point that's best used in conjunction with a map and other location-based data so you can better understand and underwrite the property.
For example, imagine a vineyard in Oregon that covers 125 acres. Its address is for a small building that sits next to the town's main road, which is slightly higher than the surrounding area. The vineyard owners use the building as their office, balancing the books, maintaining their website, and booking tours. There are three other buildings on the property: one where the wine is made, one where tastings are held, and one where the winemakers hold classes. The tasting room and classroom sit next to a river, offering a picturesque view to visitors.
Using the address for just the administrative building won't reveal that two of the other buildings are in a FEMA-designated flood zone and are, as a result, at risk of flood damage. Thinking about this property as an area rather than a point, and using the right tools — such as maps — to evaluate it as an area can help you avoid taking on unexpected risks.
Now imagine an office building. Its risk is not constrained to what's on the property. The surrounding area matters, too. This office building happens to be next to a business that handles combustible materials, which increases the office building's fire risk.
If you could visit the vineyard and the office building before underwriting them, you'd see these and other potential sources of risk and factor them into your assessment. Visits aren't often possible, though, another reason maps are so valuable. Maps can also reveal risks that even in-person visits can't.
Finding data on the risks you can't see
Consider your risk-assessment process for properties in areas prone to wildfire and earthquakes.
Though a wildfire can occur almost anywhere, a strong pattern has emerged showing that wildfires frequently occur in the same areas over and over again. Other research shows that embers are a major contributor to wildfire spread and that they can travel up to a mile. When you underwrite a property, you might know it's in a wildfire-prone area, but having more detailed information helps you make better, more precise decisions about risk and pricing.
For example, take a look at the maps below, first of Santa Rosa, California, then of Los Angeles, where wildfires have occurred many times over the past several years.
Large areas near Santa Rosa burned in 2017, and the Glass Fire burned a significant area, shown with the diagonal lines, in 2020. In earlier years, other, smaller areas burned. With a map like this, an underwriter can see not only that fires occur frequently nearby but also where they've taken place and factor that into pricing.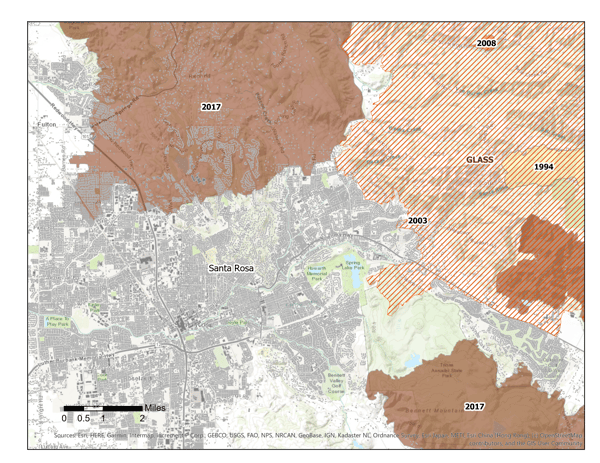 The area surrounding Santa Rosa, California, has seen several wildfires,
and two major ones, since the early 1990s. Click on the image for a larger version.


Numerous fires have burned near Los Angeles since 1991, again, often in the same areas. For an underwriter, knowing these patterns can potentially make pricing easier to determine and more accurate.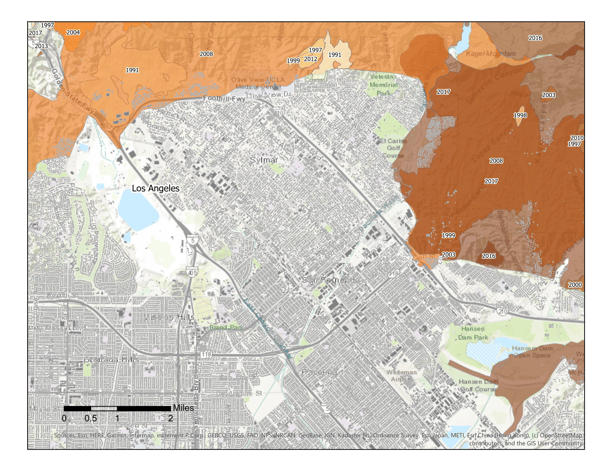 Since the early 1990s, a large number of wildfires have burned near Los Angeles.
Click on the image for a larger version.

Earthquakes present another major property risk that specialized data and maps can help you assess. Earthquake-related property damage depends on multiple factors, not just the distance to the nearest fault. Liquefaction, for example, can cause property damage many miles from the epicenter of a quake, as we saw in the 2001 Nisqually earthquake in Washington state. When liquefaction happens, the soil underneath a building effectively becomes quicksand, meaning the property damage can be significant and even render the building a tear-down.
Liquefaction risk, like flood risk, can vary significantly within a small area. Take a look at this map of liquefaction risk in a neighborhood in Oakland, California. The red represents very high susceptibility to liquefaction, the yellow moderate susceptibility, and the green low susceptibility.
The liquefaction risk for this part of Oakland, California varies significantly
within a small area. Click on the image for a larger version.


Look closely, and you'll see the strip of red runs through a school and nearby athletic field. If you used the address of the school in risk assessment, you'd get a partial picture of the area's liquefaction susceptibility. The same goes for the other buildings throughout the area that sit partly in one risk zone and partly in another. Just like with the vineyard we described above, it's important to look at the area you're insuring, not just the point where mail is delivered, to more completely understand the property risk. A liquefaction susceptibility map provides you useful insight into the potential risk to any property you're writing insurance on, including those many miles from a fault line.
Other earthquake-related property damage risk factors include the tsunami risk and lahar presence, and maps help you understand both of them better.
How to improve your underwriting with the right kind of data
To make better underwriting decisions, remember these key ideas:
For small properties, address-point data is mostly sufficient, as long as you account for how risks aggregate across your book and ensure you're getting accurate data.
For larger properties, add map-based tools so you can understand the area you're underwriting.
Be sure to keep an eye on how all risks, large and small, affect your concentration of risk.
Always consider the risks you can't see and seek ways to get data on those risks.
Learn more about our risk-assessment tools for wildfire, earthquake, and more.
---