Each wildfire is unique and affected by many factors. However, fire scientists and firefighters have long relied on the fire behavior triangle to understand how wildfires are likely to progress. In this post, we explore how you can use data from the topography side of the triangle to assess the wildfire risk of properties you insure.
What is the fire behavior triangle?
The fire behavior triangle puts most of the factors affecting wildfire behavior into three categories: weather, fuels and topography.1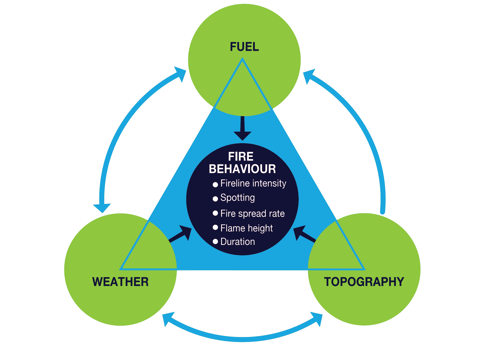 Weather includes temperature, relative humidity, wind, precipitation and atmospheric stability. Most of these factors are self-explanatory, but you might not be familiar with atmospheric stability. When it comes to wildfire, an unstable atmosphere can cause fire whirls, spreading the fire.2
Information on fuels relates to availability, condition, dryness and other factors.3 The more fuel, and the drier it is, the more intensely the fire will likely burn.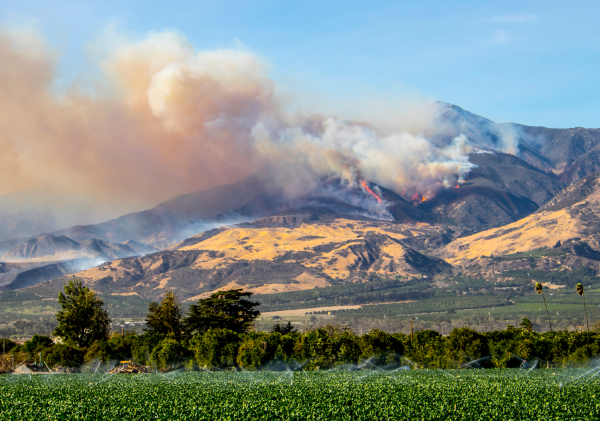 The elevation, aspect and slope of a landscape can
all affect its wildfire risk.

Related:

Get the Information You Need to Make Better Decisions About Risk
Topography can refer to different landscape features, and often includes aspect, slope and elevation.4
Aspect is the direction a piece of land faces and gives you information about the likely state of the fuels. Land facing south will get more sun exposure than land facing north, and the fuel on the south-facing land is likely drier as a result.
Elevation, the height above sea level, also provides information about the likely state of fuels. In many wildfire-prone areas, higher elevations remain cooler and wetter than lower elevations, meaning the fuels there typically dry out later in the season than the fuels at lower elevations.5
Slope is the steepness of the land. Fire usually spreads more quickly up a steep slope than a shallow one.6 When fire moves up a steep slope, it pre-heats the fuels, igniting them more quickly than it would otherwise.
Weather changes frequently, and fuel loads change over the course of seasons, but topography remains stable over time. Having wildfire risk data that incorporates topography can help you make better decisions about property underwriting.
The fire behavior triangle in action
Imagine a densely populated area surrounded by forested mountains and foothills. Little to no rain has fallen in the region for several months. One day, a heat wave begins, bringing with it low humidity.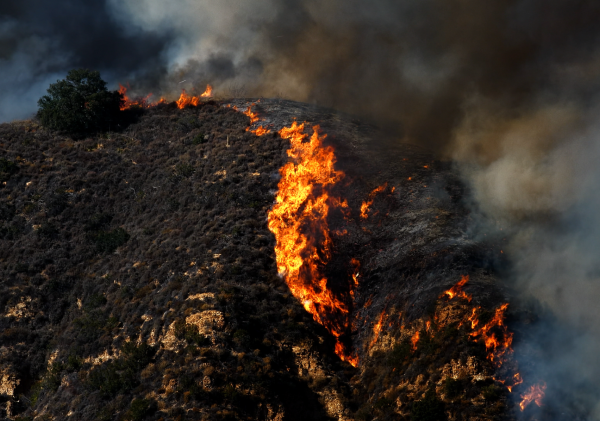 A steep hillside with lots of accumulated fuel is at
potentially high risk for a wildfire.


These are the exact conditions that the San Francisco Bay Area saw in mid-August 2020, when dry lightning ignited multiple wildfires that burned through parts of Napa and Sonoma Counties, famous for their wineries, and on either side of Silicon Valley. Several other lightning-sparked fires burned throughout Northern California. Four of the largest fires that ignited in the area in mid-August, the CZU Lightning Complex, SCU Lightning Complex, August Complex and LNU Complex, burned an estimated total of 1,879,001 acres, destroying 4,139 structures, damaging 403 structures, injuring 14 people and killing 8 people, including one firefighter.7
The August 2020 wildfires were some of the largest California has ever seen, and the fire behavior triangle helps illustrate why. The weather dried out the accumulated fuels in the forested areas, so when the lightning struck, fire was almost inevitable. (It's important to point out here that, although lightning is the main natural cause of wildfires, most wildfires are actually caused by human activity.8)


How to get wildfire risk data for underwriting
You don't have to track down the topographical or fuel load data for every property you underwrite. BuildingMetrix partners with geospatial data providers so you can easily access this data. Contact us to learn more.
---
[1] The California State University, https://www2.calstate.edu/csu-system/news/Pages/understanding-fire.aspx
[2] Wikipedia, https://en.wikipedia.org/wiki/Atmospheric_instability#Unstable_atmosphere
[3] The California State University, https://www2.calstate.edu/csu-system/news/Pages/understanding-fire.aspx
[4] National Park Service, https://www.nps.gov/articles/wildland-fire-behavior.htm
[5] Northwest Fire Science Consortium, http://nwfirescience.org/sites/default/files/flipbooks/ff_Topography/mobile/index.html#p=1
[6] National Park Service, https://www.nps.gov/articles/wildland-fire-behavior.htm
[7] Wikipedia, https://en.wikipedia.org/wiki/2020_California_wildfires
[8] NASA Earth Observatory, https://earthobservatory.nasa.gov/images/89757/people-cause-most-us-wildfires