Legal marijuana businesses create multiple risks for insurance companies, and some of those risks are harder to spot than you may think. And if you're not aware of a risk, you can't assess and underwrite it. Let's explore three key hidden risks of cannabis businesses, how they affect you and how you can quickly identify them.
Hidden risk one: proximity
Many of the risks cannabis growers, processors and retailers create can extend beyond the operation's property lines. So, even if you don't directly insure a cannabis business, you still face higher risk of explosion, fire, property damage and theft at the properties you do insure if they're near a cannabis operation.

For example, indoor marijuana growing facilities typically use a tremendous number of lights that the wiring and electrical systems can't always accommodate safely, raising the risk of fire. The lights themselves can get hot and, if they're hung near combustible materials, ignite a fire.1 Like any fire, a fire that starts in a marijuana grow facility can quickly spread to neighboring buildings.

Many cannabis processors — businesses that extract THC from the marijuana to create hash oil used in edibles and other products — use butane as a solvent. Butane-based extraction processes have resulted in explosions and fires in several locations throughout the U.S.2 Some retailers also process cannabis and therefore present the same potential risk of explosion and fire, which can severely damage or even destroy nearby buildings.

Even retailers that don't process marijuana have the potential to raise property risk for neighboring businesses. Retailers, which are almost all entirely cash-based, are prone to theft. In just one year, cannabis retailers in the Portland, Oregon area reported thefts of almost $600,000.3 Thieves may damage adjacent buildings while breaking into a marijuana retailer.

If you insure properties near cannabis businesses, you may want to charge more to cover these additional risks. But do you know if you insure properties near a cannabis business? If not, you may think answering this question would require a lot of time. Someone would need to comb through every policy in your book, map each location, then create another map with each licensed cannabis operation and, finally, compare the two.

The good news is that you can find out quickly with the BuildingMetrix Cannabis Check. Use the information to make more-informed underwriting decisions and to price policies at a level that accounts for the additional fire, explosion and property damage risk. If you're a WSRB Subscriber, you already have access to Cannabis Check data for Washington state. Simply contact us for more information and to learn how to access data for other states.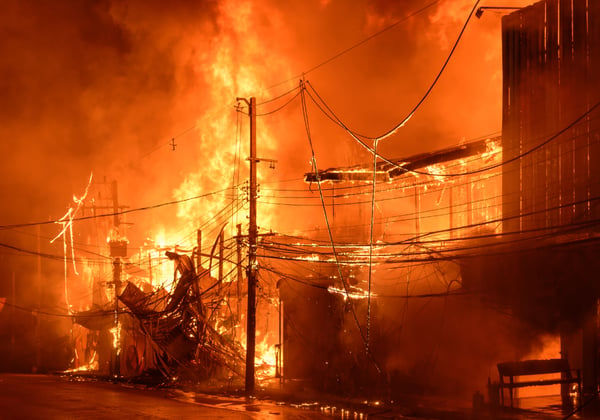 A fire that starts in a cannabis grower, processor or retailer can easily spread
to a nearby property you insure.
Hidden risk two: cannabis delivery services
Even before the COVID-19 pandemic, cannabis delivery was popular, and quarantine measures caused the demand for delivery to surge.4 But drivers are at risk. They carry both a valuable product and large amounts of cash and have become targets. Here are just a few recent incidents that illustrate the risk:
A driver in Las Vegas was attacked and robbed while attempting to make a delivery.5
Three attack-and-robbery incidents have occurred in the Portland, Maine area.6
In San Diego, a driver was robbed and shot twice in the hand.7
These drivers' first recourse is to file a workers' compensation claim. If you're unknowingly insuring a delivery service, you could face these claims, which could be costly.

You can rapidly uncover marijuana delivery services in your book of business with BuildingMetrix Cannabis Check. If you're a WSRB Subscriber, access to Cannabis Check data for Washington state is included in your subscription. Contact us today to learn more.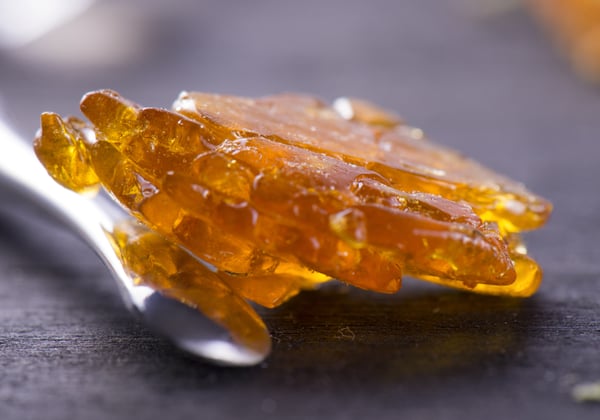 Extracting THC from cannabis to create edibles or other products can
increase the risk of explosion and fire.
Hidden risk three: cannabis product liability
Because cannabis and its byproducts are not legal at the federal level, less data is available about its long-term effects on regular users than for other substances such as alcohol or prescription drugs. Until more research is done, no one can fully answer the question of how ingesting, smoking, vaping or topical application could adversely affect someone.

These unknowns raise questions for insurers. As law firm Frost Brown Todd put it, marijuana-related product liability lawsuits are inevitable because "with legalization comes liability."8

The three main sources of liability claims will relate to:
design defects: for example, if an edible product has a large amount of THC in a single serving such that someone could overdose despite only having one serving.
manufacturing defects: for example, if the end marijuana product contains unapproved fungicides or pesticides or has an inaccurate label because the product wasn't properly tested for THC levels.
warning failures: for example, if the label doesn't provide adequate warnings about possible risks and what to do if an overdose occurs.
Lawsuits related to manufacturing defects and warning failures have already been filed, and the warning failure suit named not only the producer but also the dispensary.9 In general, warning failure suits can apply to multiple entities in the supply chain.

As more states legalize marijuana and the potential grows for federal legalization, more incidents and lawsuits will likely occur, and when they do, they'll cost insurers money, either in the form of claim payments or legal fees.

For now, the best way to avoid taking on product liability risk, and the financial risk that comes with it, is to avoid insuring cannabis growers, processors and retailers. You can reduce the risk that a legal cannabis business ends up in your book of business with BuildingMetrix Cannabis Check data. Contact us to learn more and to find out how you can try the product for free if you're a WSRB Subscriber.
---
[1] National Fire Protection Association, https://www.nfpa.org/News-and-Research/Publications-and-media/NFPA-Journal/2016/September-October-2016/Features/Growing-Pains/Hazards-of-the-Trade
[2] Politico, https://www.politico.com/story/2019/02/18/marijuana-factories-explosions-safety-issues-1155850
[3] Willamette Week, https://www.wweek.com/news/courts/2021/03/03/for-nearly-a-year-teenagers-have-been-robbing-portland-dispensaries-then-somebody-shot-a-budtender/
[4] The New York Times, https://www.nytimes.com/2020/04/10/us/weed-cannabis-delivery-coronavirus.html
[5] KSNV Las Vegas, https://news3lv.com/news/local/marijuana-delivery-driver-attacked-robbed-industry-expert-hopes-for-safety-improvements
[6] News Center Maine, https://www.newscentermaine.com/article/news/crime/marijuana-delivery-driver-robbed-at-gunpoint-assaulted-in-portland/97-7a72db57-f069-4df3-b86a-dbe901f8baa8
[7] Fox 5 San Diego, https://fox5sandiego.com/news/marijuana-delivery-driver-wounded-in-north-park-robbery/
[8] Frost Brown Todd, https://frostbrowntodd.com/growing-products-liability-claims-against-the-marijuana/
[9] Frost Brown Todd, https://frostbrowntodd.com/growing-products-liability-claims-against-the-marijuana/