Adult family homes, where people can get long-term care in a neighborhood setting, provide many social benefits, but if the facility isn't sufficiently insured, problems can arise for residents, their families and insurance companies.
What is an adult family home?
In Washington state, an adult family home is a home in a residential area where staff supervise and care for between two and six adults.1 The state licenses and regulates these homes. Similar facilities operate in many other states and go by different names, including assisted living residence, adult foster care, family care rest home, elder group home, residential care facility, personal care home and many more.2

These facilities, by any name, offer adults in need of care an option that's potentially more appealing than a traditional nursing home or assisted living facility. Residents live in a neighborhood home that they may find more comfortable than a traditional facility, and they may be able to remain geographically closer to family and friends, especially in areas where large-scale assisted living options are sparse.

These facilities also expand the total amount of beds available for adults in need of care. As the number of people in need of residential care grows, adult family homes fill an important need.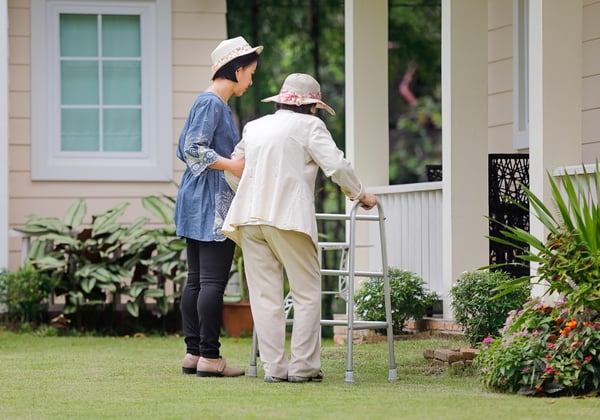 Adult family homes, also called personal care homes, residential care facilities and many other
names, provide care and supervision in a residential setting. If not properly insured,
these facilities can create risk.
What's risky about adult family homes?
The problem arises when an adult family home isn't adequately insured. Some adult family home operators may have only a homeowners policy, which expressly excludes coverage for commercial activities, including caregiving. Some adult family home operators may have only commercial property coverage instead of commercial general liability coverage. The operators may also need professional liability coverage depending on the services provided.

When these coverages aren't in place, the business owners, residents and insurance companies all face risk. Imagine an adult family home resident breaks a wrist after slipping and falling on a recently cleaned not-yet-dry floor. When the adult family home operators opened their business, they didn't notify their agent and get appropriate commercial coverage. Instead, they maintained only their existing homeowners policy. Or, the business owners may have originally purchased their homeowners policy without talking to an agent and not notified the carrier when they opened their business.

After the injury, the resident's family members sue the adult family home operators, who then file an insurance claim. Even though commercial and professional liability coverages are expressly excluded from the homeowners policy they have, the insurer still faces a collection of potential costs, including time spent processing the claim and communicating with the client to reduce the risk of a bad faith claim. If the family later adds the insurance company to the suit, the insurer faces defense costs, which can mount rapidly. As a result, claims costs eat into the company's profits.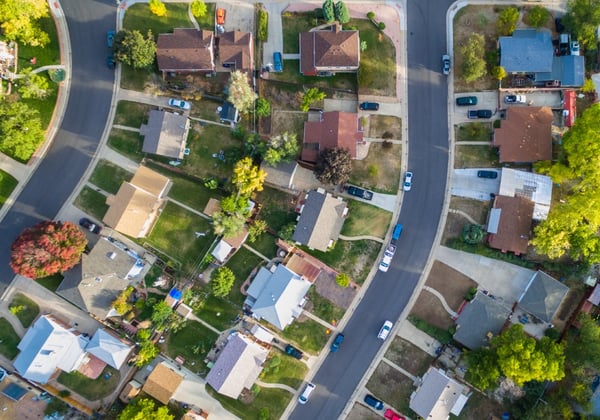 Adult family homes are part of residential neighborhoods, and insurers may have
a difficult time identifying them in a book of business.
What can insurers do about adult family homes?
For insurers, knowledge is power. Knowing which policies in your book are adult family homes allows you to take the best action for your business. If you offer commercial policies that include the necessary coverage, you can help the owners purchase that coverage and charge the appropriate rate for it. If you don't offer commercial policies, you can educate the business owner on what's needed and decide whether you want to renew the existing personal lines policy.

Identifying the adult family homes in your book would normally require someone to gather data on all these facilities in each state where you do business and then examine each policy in your book against that data. That process could take hundreds of hours but may still be a wise choice, considering the potential financial consequences of unknowingly insuring an adult family home.

Now, though, you can quickly and easily see which of the policies in your book are tied to properties operating as adult family homes. With the BuildingMetrix Adult Family Home Check, you simply submit your list of addresses, and we check them against our comprehensive, updated and validated database. You get results within three business days, so you don't have to spend time digging for the information you need to make the right decision for your business. You can then focus on helping customers get the right coverage while reducing the risk to your business.
If you're a WSRB Subscriber, Adult Family Home Check data for Washington state is included in your subscription at no additional cost. Data for other states is available for an affordable fee. Contact us today to learn more about BuildingMetrix Adult Family Home Check and how to access data for Washington state and the other states where you do business.
---
[1] Washington State Department of Social and Health Services, https://www.dshs.wa.gov/altsa/residential-care-services/long-term-care-residential-options
[2] AARP, https://www.aarp.org/content/dam/aarp/ppi/2021/adult-family-care.doi.10.26419-2Fppi.00128.001.pdf