A wave of legal cannabis is sweeping the United States. Currently, 18 states have legalized recreational marijuana and other states have begun to propose similar legislation.
As is so often the case, newly enacted legislation brings with it a whole bunch of pros, cons and unintended consequences. While regulation allows for a safer, consumer-friendly product and the generation of tax revenue, it brings with it many downsides. On top of the already pressing concerns of explosion and fire at marijuana processing centers, there's also an increased potential for armed robbery and theft.
Target for thieves
In 2022, you'd be hard-pressed not to bump into a cannabis retailer or two during the course of your daily errands – they're everywhere. Over the course of just a few years, cannabis retailers have gone from illegal to 'essential', prompting more growth. As retail locations pop up in the wake of legalization, they become a tantalizing target for thieves.
On a federal level, marijuana remains a class 1 narcotic, precluding banks from doing business with cannabis retailers. Because of this, dispensaries and other cannabis retailers are forced to operate as cash-only businesses. Large amounts of paper money on hand at any given time signal to would-be robbers a simple grab and dash option for easy money. In addition, the product itself is highly valuable and can be sold on the street for a quick profit.
And when dispensaries are under-prepared to thwart coordinated robbery efforts, thieves jump on the opportunity. Even well-prepared dispensaries can be subject to burglaries or well-coordinated robberies which can result in damage to property, theft of cash money and, in some worst-case scenarios, loss of life.
Cannabis retailers are a convenient and fruitful target for theft due to their ubiquitous nature, the presence of cash and the allure of a product that can be easily sold in alternative markets. No matter how you slice it, the danger of cannabis retail theft is a growing problem. The following recent news stories illustrate the serious nature of cannabis-related crime and the potential insurance risks that come with it.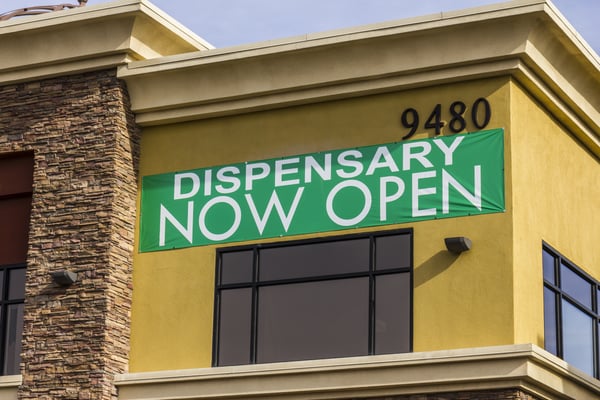 The ever-increasing presence of cannabis retail operations
opens up the possibility for increased theft.
An expanding problem
Though instances of cannabis retail theft are occurring around the country, in places like the San Francisco Bay Area, Oregon, and New York, Washington State has been particularly hard hit by a rash of crimes related to the marijuana industry. Let's look at some recent occurrences that shed light on this burgeoning problem.
On January 6, Dockside Cannabis in Shoreline became the scene of a robbery-turned-shooting. While the two suspects were attempting to hold up the retail location, they ended up shooting an employee multiple times and fleeing from the scene.
Bud Commander, a marijuana dispensary located in Tumwater, was robbed by two men on January 3. Holding the employees at gunpoint, they stole cash and products before making their getaway. A few hours later, a separate theft took place at Forbidden Cannabis in Lacey. Upon ordering the employees to get on the ground, three gun-toting robbers made off with cash and product.
Three armed robbers paid a visit to Bud's Garage on January 18, threatening staff and customers, ultimately getting away with both cash and product. According to the owner of the dispensary, this was the second robbery in 35 days. On January 19, another retailer, just south of Everett, was hit by four individuals. They pulled employees into a back office, threatened to shoot them, and stole cash and product before fleeing the scene.
On January 19, four men, brandishing firearms, robbed the Green Lady Marijuana retail shop in Lynnwood of $6,000 in cash and $2,000 in product. At one point during the heist, one of the men held his gun to the head of one of the dispensary employees.
Zips Cannabis was the scene of a robbery on the evening of January 21. Two suspects walked into the shop, brandished guns, and walked out with cash and product.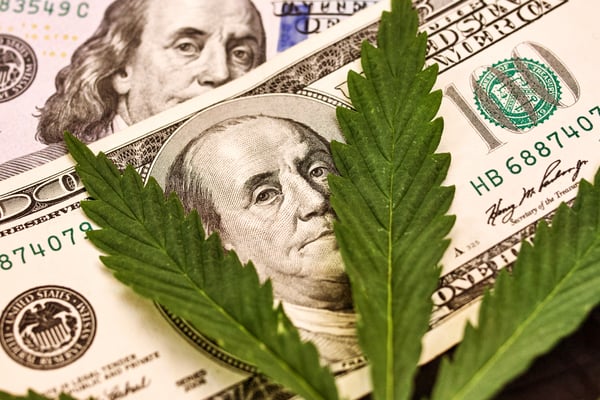 The accessibility of both cash and cannabis products make
theft a tantalizing option for would-be thieves.
Tom Bout, the founder of the Cannabis Professionals Network, has been keeping track of cannabis theft in Washington State. According to Bout, over 30 crimes occurred between November 2021 and January 2022 between Everett and Vancouver, WA. And while there are proactive steps that might mitigate theft in the future, including hiring more security, making frequent cash deposits, and posting signs explaining the lack of cash on hand, the risk is still growing and shows no signs of abating. For many, including the Washington State Liquor and Cannabis Board, as long as the industry remains cash-only, the threat of theft will continue.
Manage your risk effectively
With a risk that continues to grow, it's important to assess whether cannabis businesses have made their way into your book of business.
Using BuildingMetrix Cannabis Check data, you can see how much cannabis-related risk is in your book and where it's located, allowing you to take appropriate action. Get up-to-date information that can help you make savvy business decisions and reduce your potential losses.
BuildingMetrix Cannabis Check is currently available in all states where recreational marijuana is legal. Contact us to learn more and to find out how you can try the product for free if you're a WSRB Subscriber.
---
[1] Q13 Fox, https://www.q13fox.com/news/employee-injured-in-shooting-robbery-at-shoreline-pot-shop
[2] The Olympian, https://www.theolympian.com/news/local/article257041497.html
[3] My Everett News, https://myeverettnews.com/2022/01/20/violent-pot-shop-robberies-on-the-rise-in-everett-area
[4] KOMO News, https://komonews.com/news/local/four-masked-men-with-guns-caught-on-camera-robbing-lynnwood-dispensary
[5] The News Tribune, https://www.thenewstribune.com/news/local/news-columns-blogs/matt-driscoll/article257830428.html
[6] King 5 News, https://www.king5.com/article/news/crime/washington-pot-shops-call-on-the-state-to-improve-protection-from-violent-robberies/281-20fc84ad-d287-4990-bc1b-7ca96875d6f1